We are on a mission to brighten your day
A community of 350K+ ❤️'s using the power of daily affirmations
We want you to have personal wellbeing at your fingertips. We're on a mission to heal, inspire and empower one million people to discover their best selves. Not only this, we provide people with tools that make it easy for people to create a healthy daily routine and achieve their goals. 
Coord Sets
Bomber Jackets and leggings coord sets. A manifestation of positivity and personal style.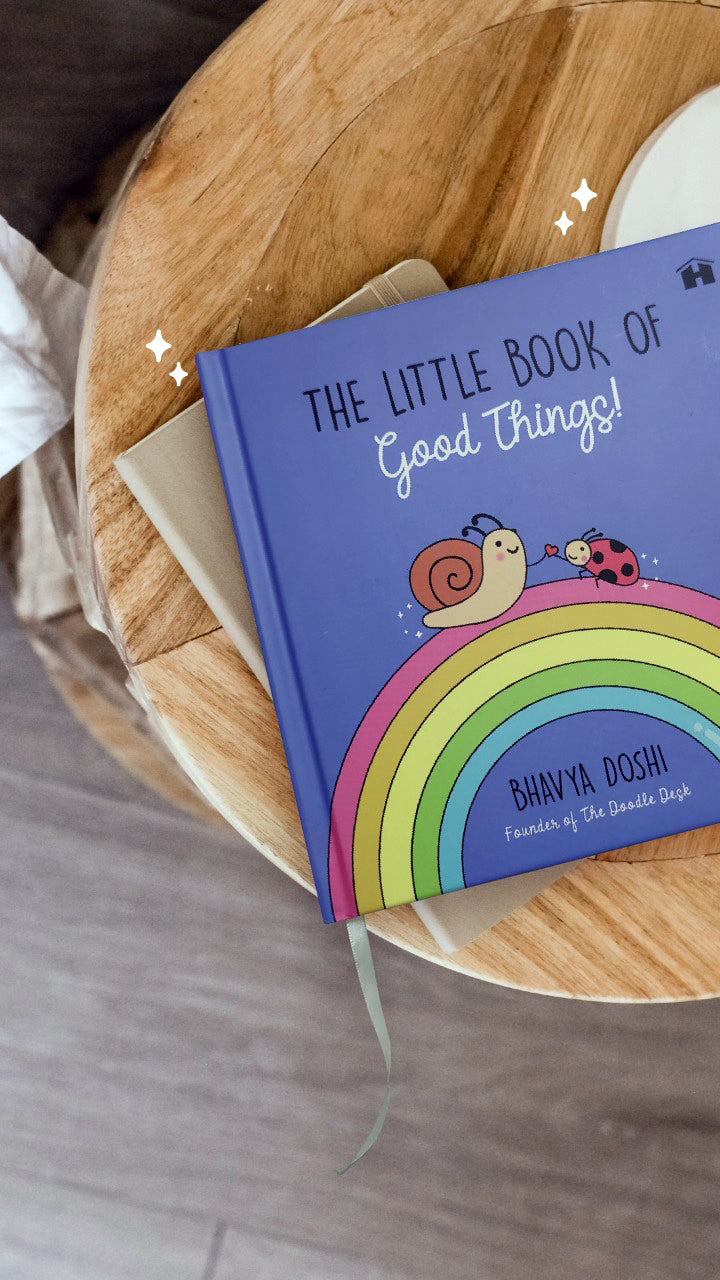 The Little Book Of Good Things!
The Little Book of Good Things! encourages us to re-envision moments of brokenness, isolation, and hurt as experiences of growth, fulfillment, and hope. It presents a collection of beautiful and minimal doodles along with an accompanying narrative that is sure to touch the heart of people of all ages.
🤞
Buy Now
The author, Bhavya Doshi, understands the universality of art and harnesses its immense power to highlight:
 🌻 Every season serves a purpose
❤️ The light of dawn will always find you
🌈 The universe always has your back
So, whenever you are feeling low or just need a sprinkle of warmth and motivation there is a page for you. This inspiring little book will help you recognise and rediscover the joy and magic hidden in the little things which we tend to forget in the hustle-bustle of life. After all, it is the little things that make the bigger picture a whole lot more beautiful!
Sameer Gudhate

Life may be a little bit of a roller coaster ride at times. As we travel through the high and low points, there are countless ups and downs. When you understand that you will face problems and impediments while you pursue your goals, life becomes a bit easier. This is why a few more sources of inspiration, such as motivational books, are always beneficial.
The Little Book of Good Things by Bhavya Doshi is a fascinating book that is hard to come by. This book is loaded with inspiring ideas. It's rare to come across a book that appeals to both a 12-years and a 65-year-old. This bundle of joy offers something for everyone, of every age and mood. It's packed with enchantment and colours, so full of life and imagery that it's difficult to put down. Sometimes we know everything, but we need a prod or confidence to put it into action. And that is where this book comes in. It's a lovely source of inspiration for the reader to keep joyful and hopeful.

The author has braided this book with such an exquisite style that it is instantly bound with heart. The nicest element of this book is that it is so enticing that you fall in love with it before you even read it; the colours, the mystique of the lovely cover, the doodles within, everything is interesting. In a nutshell, this book is a treasure. It is a must-have for everyone searching for motivation and inspiration. It serves as a reminder that even in the worst of circumstances, we are all capable of finding joy and happiness in our lives.

Sowmya

It is obvious by the picture that this book is so pretty. After reading it I can say that its not just pretty outside it is extremely beautiful inside as well. The author is really talented and did an amazing job in writing and curating this book. The book discusses life lessons and little things in life. It talks about kindness, trust, fear, excuses, negativity, positivity, happiness, destiny and what not.

Gift this to your loved ones and I am sure they will love it. Would 100% recommend this book to everyone. It is so cute and really warm and nice to read. The illustrations inside are amazing as well.

Happy reading people!!!

Shifali

This book is a collection of beautiful and minimal doodles along with a heart touching narrative related to it. This helps in reliving the moments of brokenness, fulfillment and hope and many more.This book is so inspiring that it helps to recognise and rediscover the joy behind little things that we usually ignore but it includes the hidden treasures of joy and happiness.This book includes beautiful pictures with a quote to beautify it more. Best of the quotes I want to share:🌸" The way you speak to yourself matters!".🌸 " When one forgives, two souls are set free".🌸 " Trust life".🌸 " Believe in yourself".The author has weaved this book in an artistic way that bounds it with heart directly. The best part of this book it is so appealing that before you read it you fall in love with it, the colours , the magic of beautiful cover and aroma of pages, it is fascinating.I loved reading this book and this book is a part of my kids bookshelf now. I would recommend this book to all.Happy Reading!
Your page is beautiful filled with positive messages. I feel better whenever i go through your page. May you receive much happiness, Positivity and Peace that you are spreading around. – Shruti

your doodles are so relatable. it make me express things which cant be done through words. thx for bringing smile on my face.
– Nishtha Jain

They are like a daily motivation for me. Sometimes, I get surprised by seeing the doodles that exaclty relate to the current circumstances in my life. Sometimes, they also help me find a solution. Thanks!
– Thanmai

This page is really motivating and gives out positive vibes. I look forward to these posts daily!
– Awantika
FAQ's
How can I use positive affirmations effectively?

In just a few minutes, positive affirmations may turn your world around. They also provide a positive foundation for you to work from in your mental reality. Even if the effects of affirmations are minor at first, they will help you develop a more positive outlook over time. Positive affirmations can help you reconnect with grateful feelings and improve your outlook. It might help you feel more relaxed while you're under stress.
Is there any scientific evidence that affirmations work?
Are 'guided meditation' apps useful?

You may construct mental images of places or situations that you find relaxing when using this style of meditation. You strive to engage all senses, including smells, sights, sounds, and textures. When you sit in stillness, your mind wanders, and it takes a lot of work to get the mind to focus. You have a better chance of staying in that focused state for longer when you use guided meditation.
Can I use affirmations to manifest something for a loved one?

When people we care about are in trouble, we want to help them and feel empathy for them, making us feel horrible. This is entirely human, and it's lovely to express empathy, but we don't realize that we're adding to their energy. We don't want that when we're trying to manifest or affirm something for someone, we care about. We want them to be free of it, free of whatever they've been going through. It is critical to remember not to feel sorry for them since it will prevent them from manifesting.